Sung, celebrated, romanticized… The Ile de Ré is an eternal "object" of contemplation. All the pretexts are good to take refuge there! Heatwave, first frosts, head knock, crush, blues hit or … containment, the Is not to be intimately us. Parisians, Brits, Americans, anonymous, celebrities, all are passionate about this territory of 30 km long bathed by the clear and warm waters of the Gulf Stream. Throughout the summer, Forbes takes you on a stroll through our most beautiful terroirs to the rhythm of epicurean, heritage, bucolic and sporting experiences. Heading to Ré la Blanche, the timeless.
Labeled 'Country of Art and History', the pearl of the Atlantic is characterized by its picturesque villages dotted with white houses with crazy cachet. Hemmed with tremulous roses and mimosas, most of the buildings compete with aesthetics by playing the most beautiful pastels at the shutters: enough to give you the feeling of having accosted in the city of eternal spring! What about its maze of cobbled streets, salt marshes, forests of sea pines and majestic green oaks, vineyards as far as the eye can see and, of course, its kingdom of the seas ready to capsize gourmets from here and elsewhere. Clams, oysters, mussels, shrimp or sardines, delights that can be enjoyed with their eyes fixed on the ocean horizon.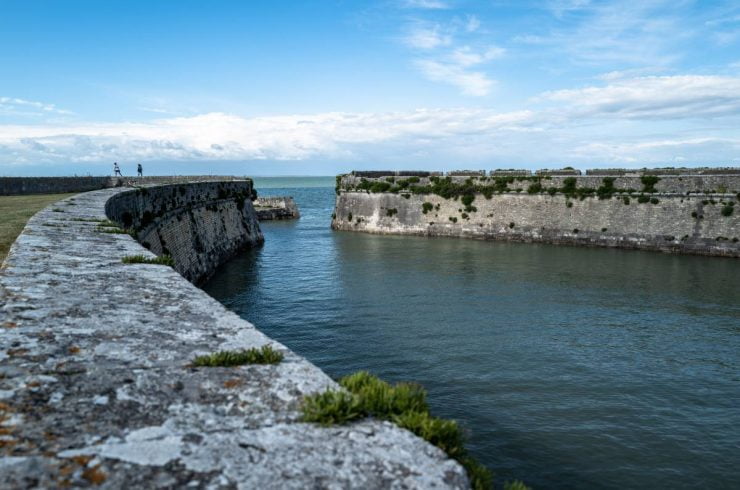 Ré la Blanche est de ces lieux enivrants où la vie s'écoule dans la gaieté et la sérénité. Une humeur «quasi-palpable» que l'on jauge aux sourires des passants en promenade, des oisifs en  villégiature  ou croisés dans l'une de ces ravissantes boutiques souvenirs, ou au détour de conversations animées à l'heure de festoyer à table. Car oui, here, on ne se contente pas de déjeuner ou de dîner 'sur le pouce', mais on apprécie très volontiers de célébrer la vie, d'échanger avec des restaurateurs passionnés de leur terroir, et de prendre des nouvelles de Paris, de Londres et de Bruxelles en discutant de bon gré avec ses voisins.
Parmi les bonnes adresses, l'Hôtel de Toiras incarne à merveille l'esprit insulaire. Cette demeure typique d'armateur rhétais du XVIIème siècle se dresse à l'entrée de Saint-Martin-en-Ré telle un gardien du temps de la cité séculaire. Ceinte des fortifications remaniées par Vauban et classées au patrimoine mondial de l'humanité par l'Unesco, cette grande maison bourgeoise – jadis propriété de la seigneurie des Gabaret – cache dans ses pierres des trésors d'Histoire. Madame de Sévigné, Samuel de Champlain, Pierre Loti et même… George Washington ont tous eu un ancrage dans ce territoire. Un bout de France ouvert depuis toujours sur le Nouveau Monde.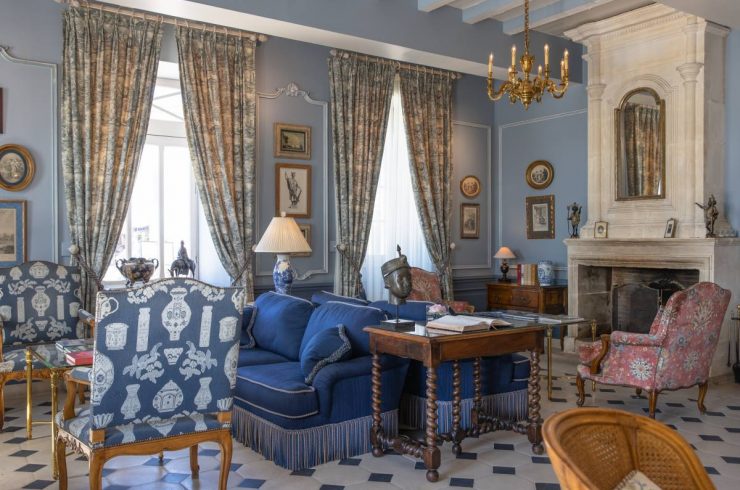 Complete wanted to pay tribute to this rich destiny by naming its suites after these illustrious characters, as universal as they are timeless. The first president of the United States, George Washington, had a Rhathian lineage in line with Nicolas Martiau, a noble Huguenot forced into exile first in England and then in Virginia. He was the great-great-great-grandson. What else?
We owe this beautiful invitation to revisit history to the crush (and vision) of owners Olivia Le Calvez and Didier Le Calvez. A tandem not so unknown in the world of hospitality and the art of living. When Olivia officiated as an overbooked interior designer, Didier Le Calvez worked to oversee the most beautiful palaces in the world, such as the Plaza in New York, the George V or the Bristol in Paris. 'Logically', it took only three years for the masters of the house to dedicate the Hotel de Toiras 'the first five-star of the island of Ré and the Poitou Charente region' in 2005, while winning the prestigious Relais et Châteaux distinction.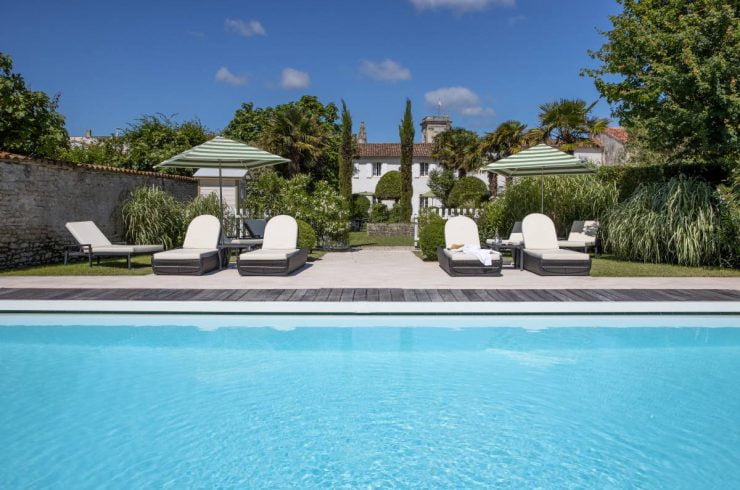 Each season lends itself to an exquisite getaway in this inspiring place, but Didier Le Calvez's opinion: "Winter has a special flavour when the chimney fire crackles while the squalls are heard outside. The Hotel de Toiras then becomes this warm refuge where it is good to stay to enjoy a homemade hot chocolate, a book in hand. ». A most enticing prospect!
Always in this spirit of hospitality built in art, Olivia and Didier Le Calvez suit us to explore the destination in a variety of ways as part of an out-of-time experience at Villa Clarisse. A few steps from the port (and its hustle and bustle), their aesthete house imagined in close collaboration with the firm Pierre-Yves Rochon, immerses us in a lush bubble… unsuspecting at first glance at the outside view of this mansion which was the birthplace of General Lapasset. Past the porch, one is immediately charmed by the aromatic garden with the look of a Mediterranean patio, the tea room under the pines, the heated pool nestled in a green setting and by the magnificent rooms where dominates a pristine white so relaxing. Between confidentiality and privacy, the host has an appointment with the dolce vita.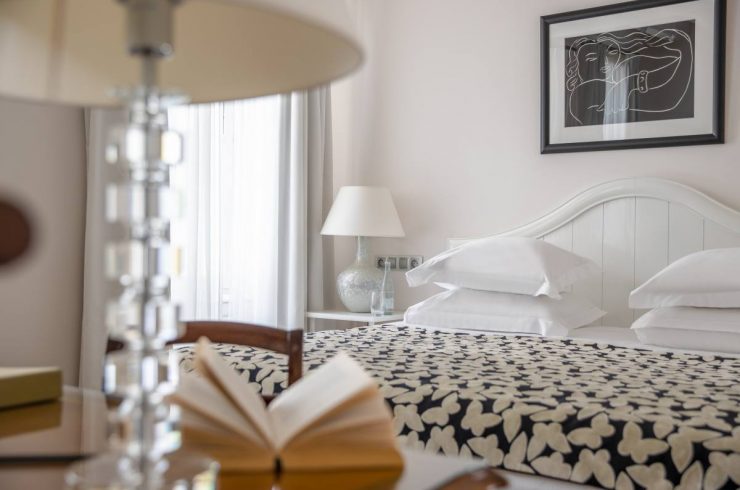 Original fireplaces, period woodwork and parquet floors rub shoulders with more formal furniture and accessories such as this white glass on the floor, the white marble mosaics that line the walls of the bathrooms or these contemporary fabrics Bisson-Bruneel and Zimmer-Rhodes. Between heritage and modernity, the dialogue is resolutely successful. As bright as they are harmonious, the nine rooms and suites capture the soul of the typical houses of the region. Olivia Le Calvez has made this address the chic and discreet extension of the Hotel de Toiras. On the table side, chef Thibaut Peyroche d'Arnaud delights us with his iodine cuisine that takes us from the Atlantic coast to the Botte with stops in the Mediterranean. Enough to satisfy gourmets, including children.
The must-sees where the stage stage:
The Whale Lighthouse (Saint Clement)
St. Stephen's Church (Ars-en-Ré)
St. Martin's Church (St. Martin of Re.)
Fort La Prée (The Fleet)
Notre-Dame-de-Ré Abbey (The Fleet)
The Ernest Cognacq Museum (Saint-Martin-de-Ré)
The Museum of the House of the Platin (The Fleet)
The Salt Marsh Ecomuseum (Loix)
The Soap Manufacturing Workshop (Loix)
The Port and fortifications Vauban (Saint-Martin-de-Ré)
Travel diary:
Hotel de Toiras
1 Foran Job Wharf
17410 Saint-Martin-de-Ré
Tel: 05 46 35 40 32
contact@hotel-de-toiras.com
Villa Clarisse
5 General Lapasset Street
17410 Saint-Martin-de-Ré
Tel: 05 46 68 43 00
A trip to the Ile de Ré cannot be complete without a contemplative bike ride:
The YOOTOO team welcomes us with passion and relaxation to put us in saddles on bikes like "Dalmatians". With its extra soul, this family shop is a must!
YooToo
9 Bouthillier Avenue
17410 Saint Martin de Ré
Tel: 05 46 68 08 09
info@cycles-yootoo.com